Welcome to

Old Town Bluffton Inn

At the first and only hotel in Old Town, stately palmettos sway in the salt air, French doors open onto brick porches and breezy balconies, and haint blue ceilings and heirloom furnishings capture a story of true Southern hospitality told in an all-new building. Elegant yet unpretentious, the Old Town Bluffton Inn is a modern Lowcountry home for those who like their tea sweet and their oysters local - preferably plucked straight from the May River.
Book Direct
Save up to 30%
Four Reasons
You'll Want To
Move In

Southern Hospitality

Around here, the welcome is warm and genuine and the invitation to linger comes straight from the heart.
Four Reasons
You'll Want To
Move In

Design & Architecture

The beauty is in the details. Ornate doorways, stately gas lanterns, and fine furnishings capture the glamour of the Gilded Age, while an state-of-the-art elevator ensures an effortlessly modern stay.
Four Reasons
You'll Want To
Move In

Family-Owned

Once you've met the owners, Vince and Danielle Harrison, you become a part of their - and the inn's - story.
Four Reasons
You'll Want To
Move In

Location

The inn's unmatched May River Road location puts you in the heart of Bluffton's historic Old Town.
Singular Retreats
Our fourteen guest rooms are individually decorated and feature custom furnishings by French Heritage designed exclusively for us.
French Heritage's designer
Hennesy Wayser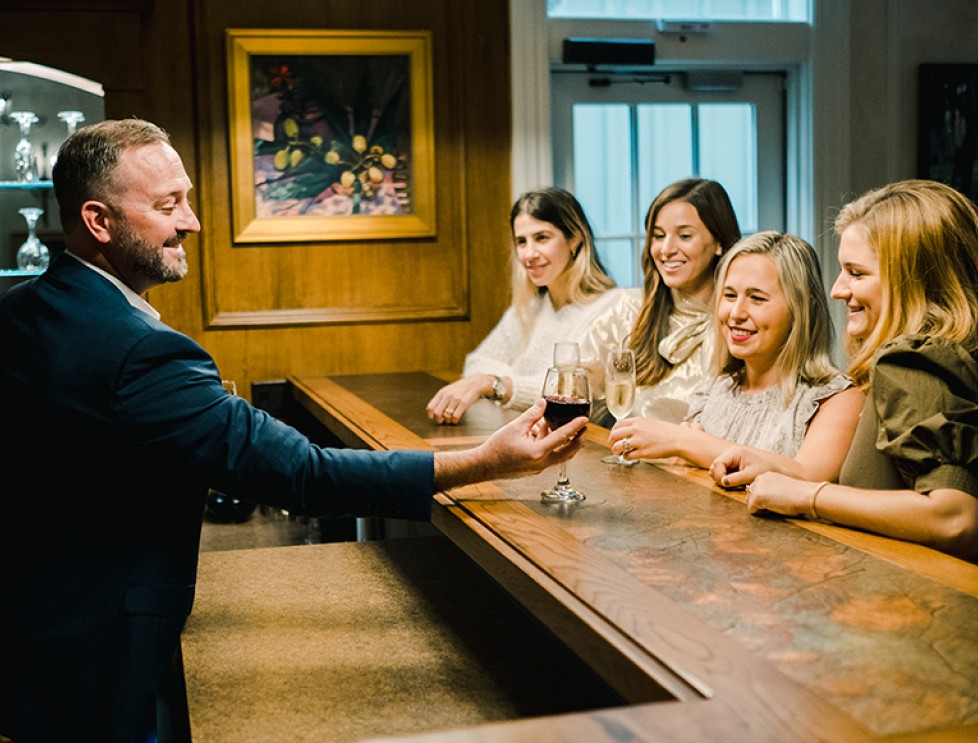 Events With Unerring Style
We've hosted more than a few small weddings, corporate events, birthday weekends, and bourbon clubs—not to mention countless spontaneous celebrations.
Overheard
"Great weekend retreat! The Inn is relatively new but has an old time charm. Our room was very comfortable. Its location is in the heart of Old Town, so we took a lovely walk and visited some cute shops. Danielle, the owner, was friendly and so helpful. Every morning we had fresh eggs and blueberry crumb cakes."
-Susan A on Tripadvisor
Overheard
"Staying here is an amazing. experience. The rooms are beautifully decorated, the bed is comfortable and the towels are plush. A pantry (no charge) is filled with fresh baked cookies, snacks and beverages and breakfast is a treat with homemade quiche and croissant sandwiches. We will be back!"
-Voyage611567 on Tripadvisor
Overheard
"Sweetest little hotel. We loved this little hotel. It's the epitome of southern charm. Not a B&B (which we don't do) but has a certain personal and welcoming feel. And it's new, very clean, nicely decorated and in a great location, walkable to restaurants and shopping. Will definitely be back."
-Heather W on Tripadvisor
Overheard
"We love staying here. In addition to being a beautiful hotel within walking distance of downtown, we cherish the friendships we have formed with the owners and staff. We are building a home in the area and, each time we visit, they offer recommendations. They are super-helpful and genuinely enjoy connecting with guests."
-John08558 on Tripadvisor
Overheard
"Coming to the Bluffton Inn is like being welcomed to a fine southern home. The staff treats you with warm and welcoming hospitality. The lobby is inviting and the front porch a wonderful place to take in the feel of an old southern town with contemporary amenities. I will definitely return frequently."
-Karen N on Tripadvisor
Bluffton Behind The Scenes